WELCOME TO STUDENTS FROM HOPE TO THE FUTURE ASSOCIATION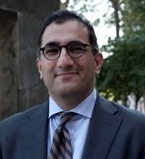 It is with great pleasure that I welcome you to WFUNA's Training at the UN Program. This is an exclusive opportunity for youth and I would like to thank Hope to the Future Association for their commitment to collaborate with WFUNA on this important initiative for Korean high school students.
WFUNA is a global non-profit organization working for a stronger and more effective United Nations. Established in 1946, we represent and coordinate a membership of over 100 United Nations Associations and their thousands of members.
We promote the effective engagement of youth in the UN's work through week-long training courses in New York and Geneva. These courses are designed for youth from a small group of educational partners who are interested in learning about and engaging with the work of the United Nations.
During the five-day program, you will receive hands-on information, practical knowledge and guidance on how to constructively and effectively engage with the UN system. We will empower you to exchange and network with UN officials and representatives from the international development community to learn about the most pressing issues at the United Nations.
The training will cover a wide range of topics under the three pillars of the UN: peace and security, sustainable development and human rights.
Located in the UN Headquarters in New York and Geneva, WFUNA works with it large network of partners from the UN, NGOs, the diplomatic community and academia to offer students a rare and intimate view into the workings of the UN.
I am convinced that this experience will be most valuable and fruitful for your development as global citizens and that you will greatly benefit from the program content provided to you.
I wish you all the best of luck for the training as well as for your future endeavors.
Bonian Golmohammadi
Secretary-General