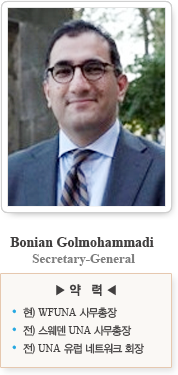 It is with great anticipation that I invite you to the first annual WFUNA Youth Forum: Korea. We are proud to co-host this event with Hope to the Future Association and Seoul National University's Language Education Institute for an exciting two week of active engagement with youth participants.

The World Federation of United Nations Associations (WFUNA) is a global non-profit organization working for a more stronger and effective United Nations. With a membership of over 100 United Nations Associations around the world, we work together with them to connect people around the world to the United Nations, educate about its mission and work, and contribute to the achievement of its goals.

In achieving our mission, we have been working effortlessly to engage with one of the most important stakeholders in the world, youth. WFUNA believes that youth, as civil society activists, have the power to be significant actors of positive change. Through our global education and youth programs, we have been reaching out to our youth constituents by providing them with the opportunity to experience and build skillsets to shape our future in a more peaceful and sustainable way.

As the world today faces daunting challenges that transcend different cultures and national boundaries, it has become an inevitable trend for future leaders to understand and adapt to these challenges. WFUNA Youth Forum: Korea has been designed to help youth participants harness abilities in diplomacy, public speaking, and debate in order to raise awareness of and respond to global issues. Moreover, it will be a platform for students to spread a philosophy of tolerance, cross-cultural communication and a spirit of cooperation and creative decision-making.

I look forward to seeing you in Korea and hope you enjoy this program.
Thank You
Bonian Golmohammadi
Secretary-General
World Federation of United Nations Associations